Ukraine and Poland – ministry to refugees
Since the start of the devastating war in Ukraine on 24 February 2022, Operation Blessing teams have been on the ground in Ukraine and Poland to bring relief to thousands of refugees. Thanks to your generous support, we were able to open a distribution centre very quickly at the Poland – Ukraine border and send many trucks with food and hygiene supplies to our warehouses inside Ukraine to meet the urgent needs. As a result, we have been able to provide more than 160 tons of fresh food and vegetables, over 150 tons of sugar, salt, flour, oil and cereal, over 1.4 million cans of food and more than 70,000 units of hygiene items!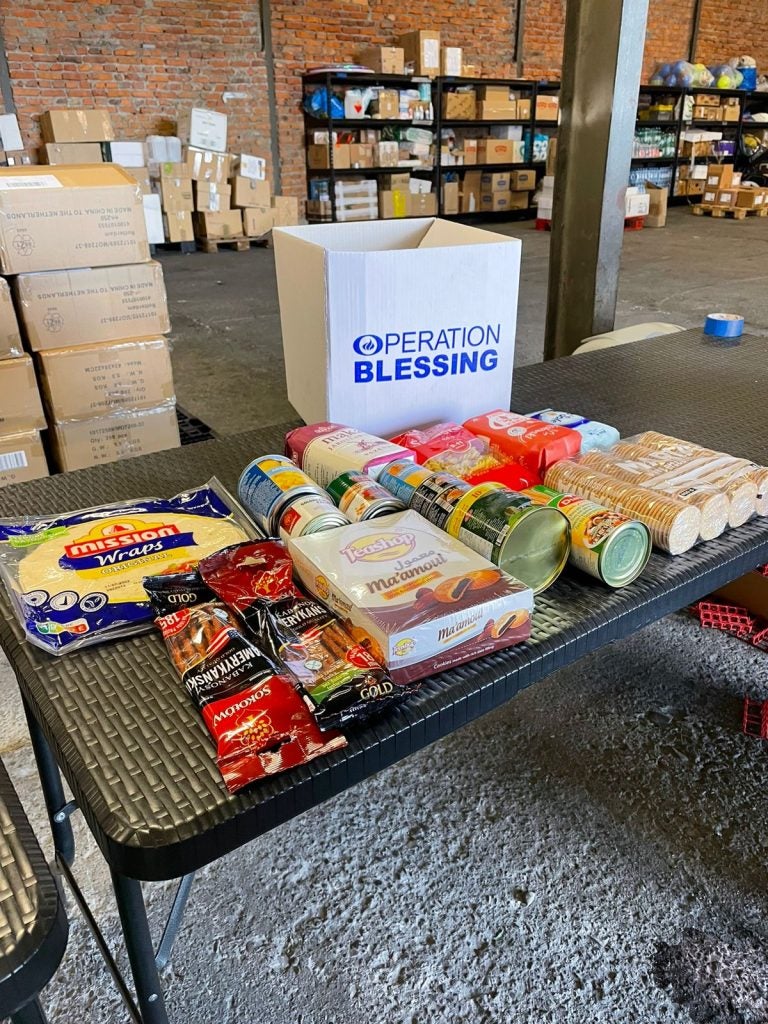 Besides the valuable and much needed outreach through our food distribution, our refugee outreach at the Medyka border has been a true blessing to thousands of refugees who crossed the border. Thanks to your support we were able to deploy a large tent and food kitchen at the border, enabling us to serve thousands of refugees during the past months. Your support brought the love of Christ in practical ways to mothers, children and elderly people who crossed the border with nothing more than the clothes on their back and a suitcase full of personal belongings. Our teams on the ground welcomed them with open arms, providing blankets, food, hugs, and a moment to recover and rest. In partnership with the local church and many volunteers we were able to bring refugees to safe shelter for the night and help local shelters and churches with provision of food and hygiene items. 
Your support helped us to minister to many children in various shelters and at the Medyka border through CBN's animated Bible series 'Superbook'. One of our initiatives is sharing Superbook in Ukrainian language to refugee children, though a partnership with the Jesus Film Project. They take Life Boxes with Ukrainian content into schools, to share the Good News of Jesus. The Life Boxes also contain Superbook – so far 190 Life Boxes have been supplied to schools in Poland, to help engage with Ukrainian refugee children.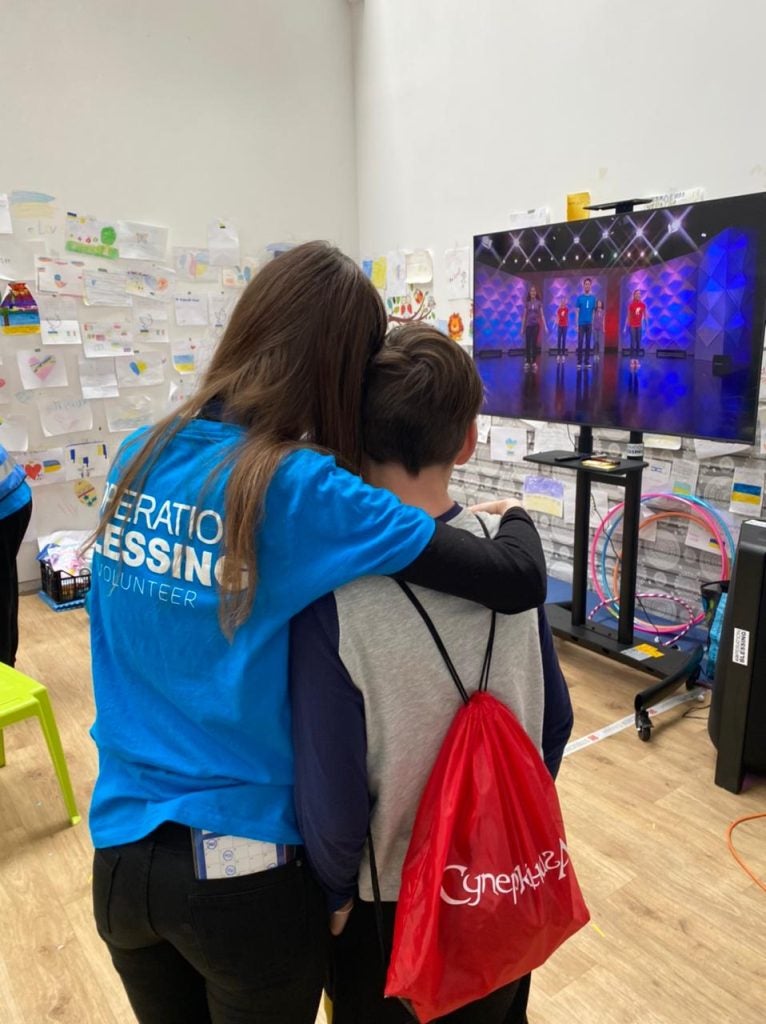 Our Superbook team from Manilla travelled over to help us in Poland, reaching out to children in Ukraine. Together with our Ukrainian Superbook team they are visiting shelters in Warsaw, Krakow, and Rzeszow to share the Good News of Jesus with children and families. He has a plan for every person, and uses us to bring hope, healing and restoration to every person affected by this war. The children love watching the episodes in Ukrainian language as they learn to understand God's plan and purpose for their lives. Gizmo is also much loved and always brings a big smile to every child and even to the adults!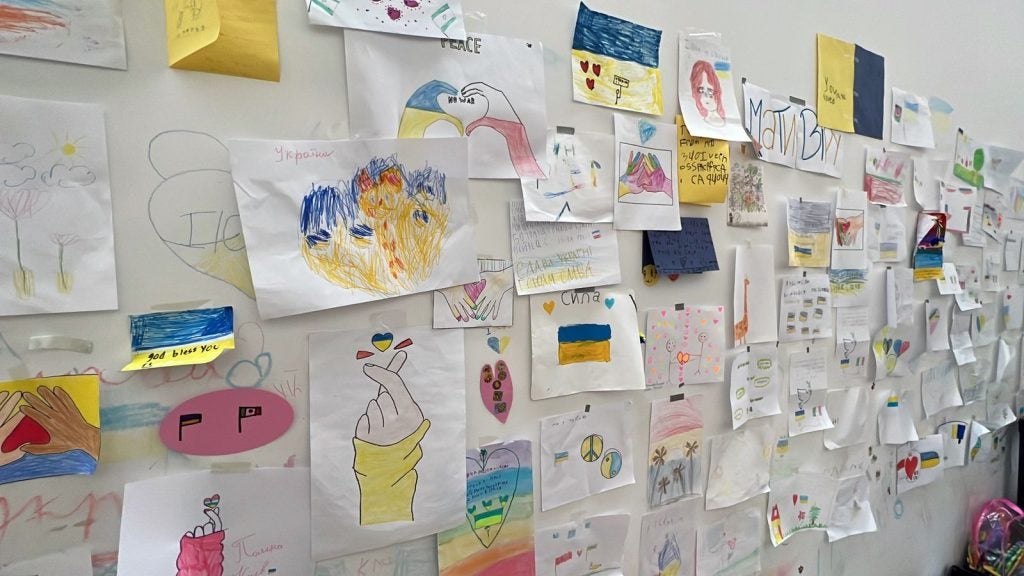 We now have established a Foundation for Operation Blessing in Poland, with its headquarters and distribution warehouse in Warsaw. We work closely together with the local churches to provide relief to refugee centres in Warsaw – the need is great. Many refugees who came to Poland decided to settle in Warsaw – in the hope of a house, a job, and a way to survive. Many houses and shelters are over-crowded and government support is not adequate. One of the churches operate various safe houses for refugees, sharing the love of Christ in practical ways through shelter, food, and spending time together. Thanks to your support, Operation Blessing is able to provide food boxes and hygiene supplies as we partner with the local church and strengthen their hands. 
Many refugees suffered tremendous trauma because of the things they seen, heard, and experienced during the war. Things that no-one should have to experience and leave deep trauma with children and adults. CBN's Orphan's Promise has opened a training centre in Warsaw, where we provide trauma counselling training to churches and ministries, so that we can help many more refugees process the traumatic events. Thanks to your support we can employ four team members who are involved with trauma counselling and practical support to refugees. Please pray for this valuable ministry that brings healing and restoration in the Name of Jesus.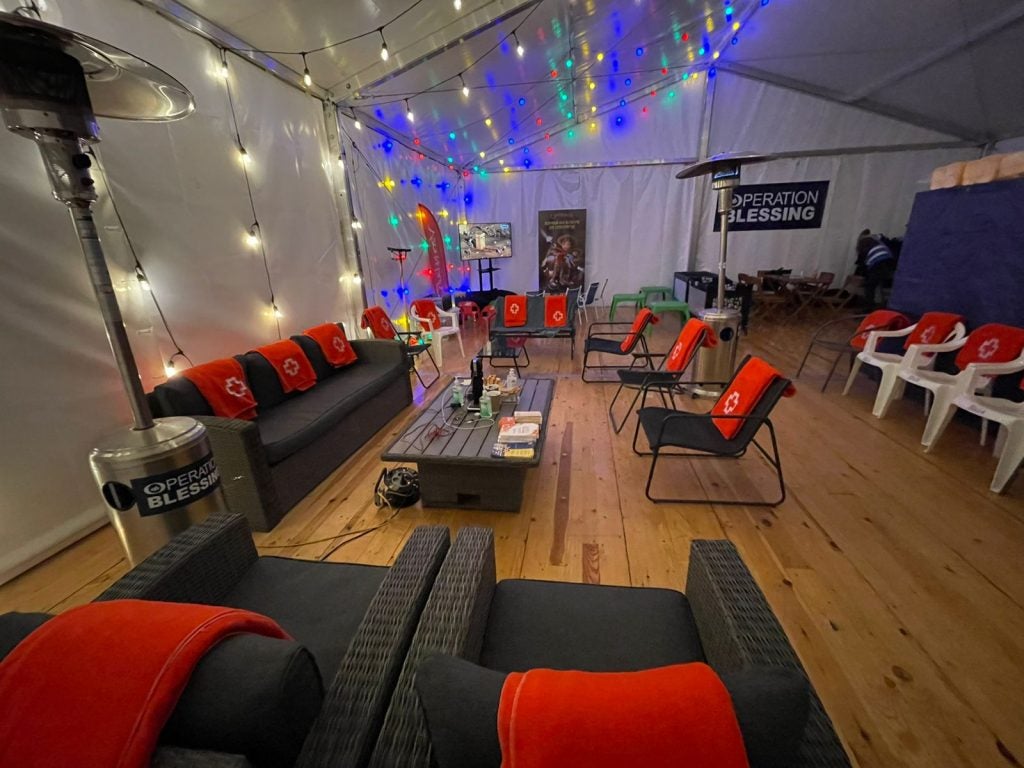 Inside Ukraine, our Operation Blessing and Orphan's Promise teams are working hard to distribute the food they receive, working with many volunteers and missionaries who help with the distribution. We operate two main warehouses in strategic locations, from where we further distribute, even as far as near the eastern front lines. Thanks to your support we can bring bread potatoes, vegetables and canned food supplies to thousands of beneficiaries each month. The need is huge – demonstrated by the long lines of people queuing up for support when a distribution takes place and by how fast the supplies go once, we start a distribution.  
With the help of a church in the USA we were able to start a bread bakery, giving us a capacity of 2500 loaves of fresh bread every day. Here is a story from one of our beneficiaries, showing how great of a blessing a simple loaf of bread really is. 
"My name is Vitaly. I am a resident of a village that is now occupied. I never thought that bread could be so delicious and dreamy! The war came to my village unexpectedly. With the arrival of the war, everything else disappeared in line: light, water, and gas. Peace and tranquillity have gone. Stores, pharmacies, and all other services stopped working. Communication stopped and the laughter of babies. Streets have become empty and grey; fear and danger occupy the streets now. From rattling of military equipment, bombing and constant gunfire, the basement has become a haven for many.  
Our request and prayer to God gave us comfort: "Lord, I so want to eat, I so want bread! Not meat, no delicacies, just bread!" And He heard us. It is impossible to forget this feeling, holding this fragrant loaf of bread in our hands… How I wanted to eat it alone in one go, but I was waiting in the basement and am not the only one here. Good people! Thank you for this moment of happiness, holding hands and eating bread." 
Thank you for your continued support to bless Ukrainian refugees as we continue to stand with them in prayer and practical relief.
To give to our Ukraine appeal visit