Superbook – The Bible Adventure Series for the Whole Family!
Superbook brings the exciting stories of the Bible to life! The characters, Chris and Joy, al0ng with Robot Gizmo, travel the globe with Superbook and discover the stories of the Bible, from creation to revelation. The adventures are not only exciting and entertaining, but also teach the children Bible truths and values. They also learn something applicable for their own lives with each episode. So far, there are four seasons, each with 13 episodes in the German market. Season 5 will be available from October 2023! 

FSK recommendation: From 6 years
By the way …

Superbook is also available for children's services –

The Church Edition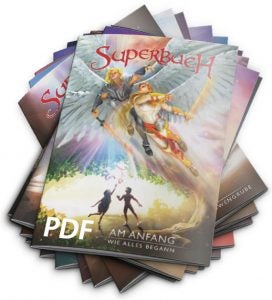 For the first season of Superbook there is also accompanying material for children's services. Devotions and game suggestions around the Superbook episodes help Kigo employees to create varied hours.