If you are in the center of Tirana, Albania, the houses suggest that the people there are poorer than in Germany. The further you go to the outskirts, the more evident this poverty becomes. In the north of the city is the Bathore district. Liria* lives there with her youngest son Tarek*. The roof of her little house burned down in 2018. The fire, which was triggered by electrical failings, damaged the entire neighborhood. Most of them were able to repair their roof, but unfortunately Liria didn't have the money. And, the broken roof was not Liria's first stroke of fate. Her husband was violent on a number of occasions, and she had already applied for several restraining orders.
After the fire, her adult children encouraged her to get along with her husband again and after long discussions, Liria forgave her husband and he moved in again. Unfortunately, it did not stay peaceful for long. Within a very short time, Liria's husband was drinking again and also became violent towards their son. After her husband locked Liria out of the house one winter night, she filed for divorce.
During this time, Liria was able to receive help and support from the team at the long-standing CBN project partner, 'Mission Possible Albania.' Even today, Liria regularly visits the women's group in the Hope Center and takes part in various courses. She learns to sew, attends a parenting course, and learns about God's love and grace in a basic faith course.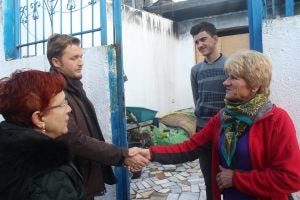 Her son Tarek regularly visits the afternoon care, "Miracle Club," and in the summer goes to the youth camps. There he got to know Superbuch, and exchanged ideas with the other children and young people about God and Jesus. Tarek has now accepted God as his heavenly Father.
Liria also struggled with health problems. Since she suffers from diabetes, in addition to a herniated disc, she needs regular medication. Mission Possible is also helping her with these challenges by paying for medication, and providing Liria with food. The money Liria has at her disposal is barely enough to support herself and certainly not enough to renovate her house.
When Mark Dijkens, Managing Director of CBN Europe visited Mission Possible, he became aware of Liria's plight. He reported to us at CBN Germany Humanitarian about the situation and we decided to assist Liria.
Mission Possible immediately began soliciting offers from construction companies so that Liria and Tarek could live in a warm house with a roof and furniture again before the onset of winter. The roof, as well as the bedroom and dining room were renewed within a month. The ceiling and walls in the house received a new coat of paint. In addition, new power cables were laid, and two new windows and a new secure door were installed. At the beginning of the renovation, employees found that Liria had no access to a proper toilet, let alone a bathroom. They then expanded the house and added a small bathroom. To get there, however, she had to walk across the terrace. In the rain, and especially in winter, it was very uncomfortable. Mission Possible therefore decided to also roof the terrace to protect Tarek and his mom from wind and weather. It was a real luxury for Liria. She was overwhelmed by the helpfulness.
When the renovation work was finished, we surprised the family with furniture. A refrigerator, table and chairs, a cupboard, and two sofas now make the house cozy and comfortable.
Liria and her son are delighted, and deeply touched that donors from CBN have invested in their lives.
"I can't believe it. It feels like I'm dreaming. I am so thankful to God. You really are true friends! I've had a really hard time, but the worst was when the house started to burn. At that moment I lost all hope. I didn't know how to get through this.
First diabetes, the herniated disc and then the fire – I was desperate! But God met me and gave me strength to get up and look ahead. I wanted to be there for my son and be a good role model for him.
I am so grateful to God that the Hope Center exists and that I have met such great, loving friends through it. I am infinitely grateful for the most beautiful gift of my life. It feels like I'm in a completely new house. The new furniture is just wonderful. Everything I need is really there. I can't believe it!
May God continue to bless you abundantly. Tarek also thanks you warmly and thinks of you every day. We thank CBN Germany and Mission Possible Albania, because thanks to you and your supporters we now live in a real house, like everyone else. God bless you!"
Liria* and Tarek*
* Name changed
---
We say thank you for all your donations that help changing peoples lives!
You want to change peoples lives too? Become a CBN Partner!