Well Projects with CBN
Turn on the faucet and wash your hands, wash dishes or just take a sip, that goes without saying for us. However, in some countries around the world, people have to travel long distances to reach the nearest water source. Mostly this water is polluted, partly because animals drink from it. Pathogens cause cholera or severe diarrhea, in which children die most often.
Since 2017, CBN Germany has built more than 30 wells, providing drinking water to many village communities around the world. The joy and gratitude of the people is great!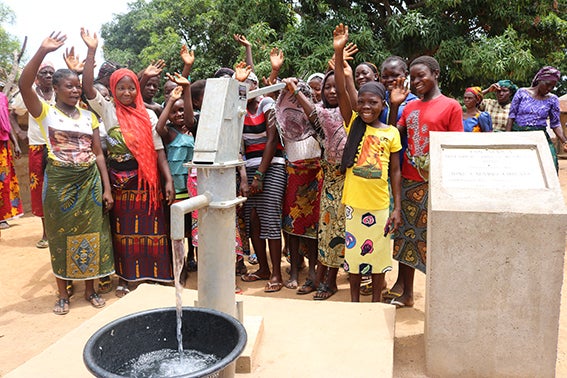 Jesus answered and said to her, "Whoever drinks of this water will be thirsty again, but whoever drinks of the water I give him will never thirst, but the water that I will give him will become to become a source of water that swells into eternal life.
John 4: 13-14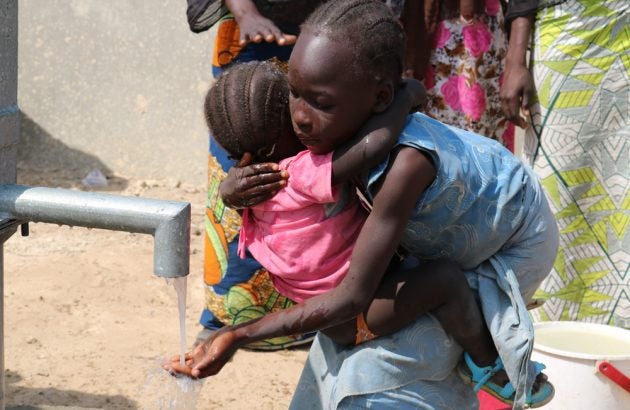 Give a fountain
You, too, can get involved and implement a well project together with CBN. Whether alone or with your family, friends or your parish – give people without drinking water a well.
With your donation, a well project will be realized in Ghana, Nigeria, Peru, India, Thailand or Cambodia. Our on-site teams identify where the most help is needed, and how to drill and build a well with a hand pump. The entire well project takes about 9 to 12 months.
With a donation of 4000 Euro you can finance a whole well. In this case, upon completion of the well project, you will receive a portfolio of photos and information about the location of the well and the people who will be of assistance to you. At the fountain a plaque is attached with a Bible verse. With a complete fountain donation, this can be personalized with your name.
Even with a donation of 2000 Euro you will receive a fountain project folder.
Of course, any other donation is valuable and helps us build wells and provide people with vital, clean water.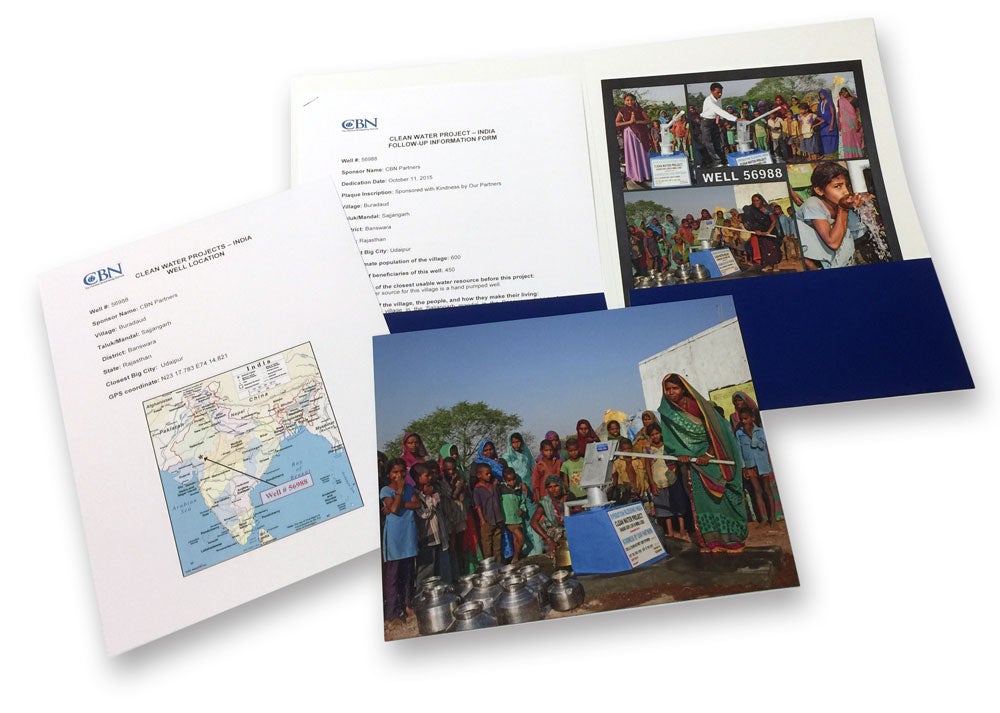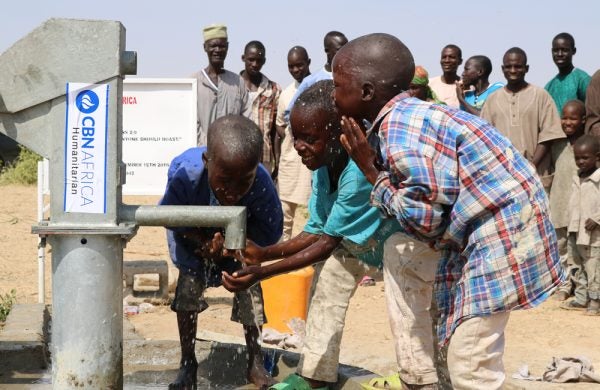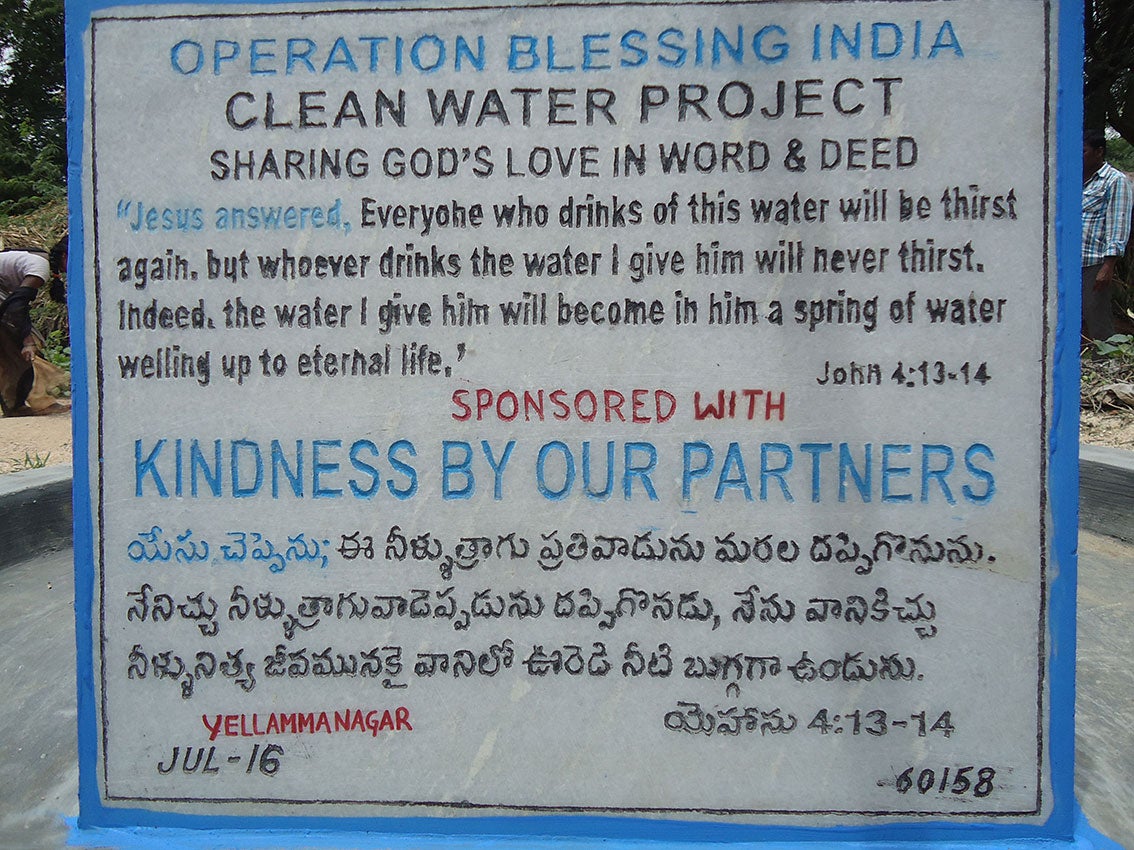 Rajulamma, 30 years old, from Andrha Pradesh in India: "I cannot find the right words to say thank you to the donor of the well! We have no real water source in this village, that was our greatest need. Because of your kindness and generosity we now have our own water source. God bless you and all those who helped to build this well. We thank you so much! "
Reyna, 48, from Loreto, Peru: "I never thought we would have a well, it's like a dream. I am so glad that I do not have to bring the water from so far away. We often got sick and had stomach problems from the dirty river water. I am so happy that this will not happen again. Thank you for this blessing!"
Danladi Audi, village elder in a village in Karshi, Nigeria: "Today is indeed a special day for the people in this village, it is historic, because we have now received this fountain as a gift. We actually expected this help from our government. Thank God you thought of us. May God richly reward your good deeds and bless your children."
Are you interested in a well project with CBN Deutschland and have questions?
Then call us on 040/317000076 or write an email to kontakt@cbndeutschland.org.
Your donation can easily be made online on our website via Paypal or by direct debit. Of course you can also transfer the donation. From Germany or Austria please transfer to the following account:
SKB Bad Homburg
IBAN: DE29 5009 2100 0001 4537 00
BIC: GENODE51BH2
From Switzerland please transfer to this account:
PostFinance
Account: 60-742493-7
IBAN: CH31 0900 0000 6074 2493 7
BIC: POFICHBEXXX
The purpose is "fountain donation".
We sincerely thank our donors for their support! With your help, we are happy to build fountains in our project countries and to bless people, because together we bless because we are blessed!
In our ERLEBT Magazine, you can read on page 14 how our donor Josef E. gave a well to people in India and thereby made a promise to God. Click here.
FAQ - Brunnenspende
How do I transfer my donation to the well project?
Donate Button
You can easily make your donation on our website by clicking on the donation button and choosing to pay with PayPal or issue a SEPA direct debit mandate.
Debit
If you are from Germany or Austria, please transfer your donation for a well project to the following account:
SKB Bad Homburg
IBAN: DE29 5009 2100 0001 4537 00
BIC: GENODE51BH2
If you are from Switzerland, please transfer to the following account:
PostFinance
Account: 60-742493-7
IBAN: CH31 0900 0000 6074 2493 7
BIC: POFICHBEXXX
PayPal
For a donation with Paypal you can use the following recipient email address: kontakt@cbndeutschland.org. Then please contact us so we can allocate your donation.
Unfortunately, I can not raise 4000 Euro. Can I still finance a well?
Every donation is valuable! Of course, if you transfer less than 4000 Euro, the money will still be used for our water projects. However, you can only finance the construction of an entire well with the donation of 4,000 Euro. Would you consider joining forces with relatives, friends, or siblings to share this project?
In which Countries can I build a well?
We are currently implementing our well projects in the following countries: Ghana, Nigeria, Peru, India, Thailand, or Cambodia.
If you are donating to an entire well project, you are welcome to choose the country where the well is to be built.
How long does the construction of the fountain take?
The project period is usually 9 to 12 months from the start of the donation to the completed well construction.
When do I receive my information package?
From a donation of 2000 Euro, you will receive an information package of your supported well project. Once the project is completed, we will put together the information package for you and send it to you by mail.
What does the information package contain?
You will learn everything you need to know about the well project, such as where the well was built, as well as background information about the village, the population and the beneficiaries of the well. As a rule, we also have a small account of the inauguration and blessing of the well. The package also contains photos of the fountain and the plaque.
What is written on the plaque attached to the well?
On the fountain plaque we print a bible verse in English and / or the corresponding national language and on request the name of the donor. If you are financing an entire well project worth 4,000 Euro, you may decide to have your name or the anonymous dedication, "Sponsored with kindness by our partners" or "Sponsored by the heart of our partners," printed on the plaque.
The words "Sharing God's Love in Word and Deed" illustrates the motivation from which we build fountains, namely "to pass on God's love in word and deed".
The badges are manufactured in the project countries. Please understand that we also want to keep the costs of the project low in your interest and therefore can not make any changes to already printed plaques.