When we hear of a major depression on the news in Europe, we rarely worry about how to protect our home. However, in the Philippines, low pressure areas can quickly turn into a typhoon. Typhoons can hit the Philippines at any time of the year, being most active between June and September. The storms usually move from east to west through the country with a wind speed of 118 to 220 km / h. Southern islands are largely typhoon free.
Angel and her family have experienced this threat firsthand. The nine-year-old daughter of a fisherman lived together with her siblings and her father in a confined space after her actual home and neighborhood were destroyed by a typhoon with wind speeds of up to 170 km / h. Over the year, the island nation is hit by typhoons an average of 20 times. "I am always very scared when there is a storm and the wind is so strong. My chest always hurts a lot, but my little sister is even more scared, so I cover both of us, " she tells the staff of the CBN aid organization Operation Blessing.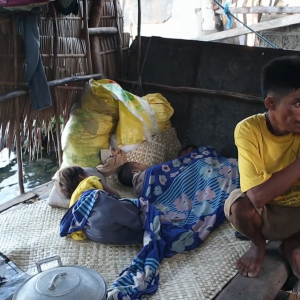 Due to the corona pandemic, the Philippines were in strict lockdown for 80 days. In the meantime the measures have been relaxed regionally, but Angel's father Roland lost his job anyway. He's been raising his children alone since his wife left the family. Using scraps of wood that he had collected after the typhoon, he built a shelter for himself and the children. He couldn't afford more. He usually stayed up at night to make sure his daughters were safe.
"I was always worried about my children," says Roland, "I thought to myself: How should I rebuild our house properly? We didn't have a home and didn't know how to get help."
The shelter was built on stilts and had no proper walls to keep out wind and rain. In some places Roland had put palm leaves and a corrugated iron on them to give his children some protection. The roof also consisted mainly of palm leaves, which, however, always flew away in strong winds. The floor was simply made up of a few planks covered by a bast mat.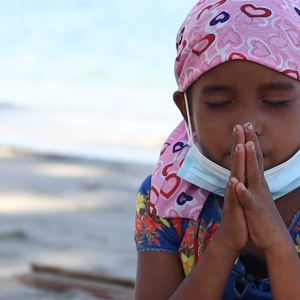 You always had to be careful not to step into the many gaps in the ground. Little Angel prayed: "God help us. Please give us a new house and please protect my family. I love her so much. Thank you God amen. "
God did not leave the prayers unanswered.
An Operation Blessing team came to the area of ​​Angel's family and distributed food packages to all families suffering from the typhoon and the corona pandemic. The CBN aid organization has often helped in this region. Aid is vital for many Filipinos. Angel's family also received support. When the staff saw the shelter where the family lived, they decided to build them a new house.
Many neighbors, whom Operation Blessing had helped in the past, came together to help. When the necessary building materials were delivered, they joined forces to start building the new house.
In addition, Roland was helped by CBN to open his own shop. He learned everything about how to run a business and how to manage it well and since then he has been selling the fish he caught himself and can thus provide for the family's livelihood. When the family moved into their new house, the joy was great. As a housewarming present, she received new pots, plates, cutlery and other useful household items. The new home finally offers the family the protection they need.
Angel and her siblings feel safe again and their father Roland can sleep again at night to recharge his batteries for the next working day.
"I'm so happy," says Angel, beaming. "We finally have a real home again."
---
To this the king will reply: 'I assure you:

What you did for one of my disregarded siblings, you did for me.

Matthew 25.40
Do you want to take part in our humanitarian projects?
Become a partner of CBN!
---